Benjamin Franklin's Last Bet
National Archives Museum
Online
Thursday, April 14, 2022 - 1:00 p.m. to 2:00 p.m.
Author Michael Meyer discusses the incredible story of Benjamin Franklin's parting gift to the working-class people of Boston and Philadelphia—a deathbed wager that captures the Founder's American Dream and his lessons for our current, conflicted age. Franklin was not a gambling man. But at the end of his illustrious life, he allowed himself a final wager on the survival of the United States: a gift of 2,000 pounds to Boston and Philadelphia, to be lent out to tradesmen over the next two centuries to jump‑start their careers. Each loan would be repaid with interest over 10 years. If all went according to Franklin's inventive scheme, the accrued final payout in 1991 would be a windfall. In Benjamin Franklin's Last Bet, Meyer traces the evolution of these twin funds as they bankrolled woodworkers and silversmiths, trade schools, and space races. Over time, Franklin's wager was misused, neglected, and contested—but never wholly extinguished. With charm and inquisitive flair, Meyer shows how Franklin's stake in the "leather-apron" class remains in play to this day, and offers an inspiring blueprint for prosperity in our modern era of growing wealth disparity and social divisions.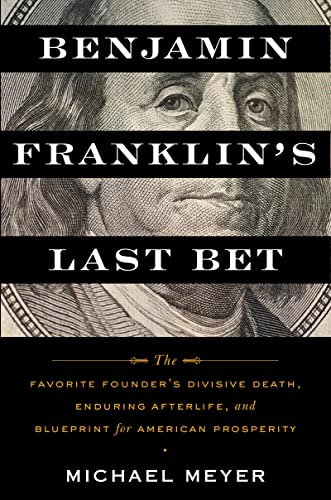 All events listed in the calendar are free unless noted.